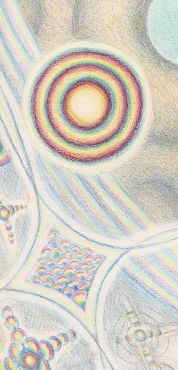 Hmm
...
In such near-death reports, a common initial experience is usually described as a meeting with an all-pervading, glowing luminosity.  Often those who have been resuscitated from near-death states, at the time of entering into this radiant expanse of light, also describe experiencing an extraordinary sense of completeness and contentment and a sense of being enveloped by a loving presence.  In the Buddhist view, the moment of death is the moment when the mind returns to its own natural state.  All conceptual states are dissolved.
Just as in deep meditation, we experience the actual nature of our own pure awareness, an all-pervading sense of contentment, and the deeply peaceful warmth of boundless compassion.
As soon as your respiration ceases, the luminosity known as "the inner radiance of the first intermediate state," which your spiritual teacher formerly introduced to you, will arise.
At the same time, a naked awareness will arise, not extraneous to yourself, but radiant, empty and without horizon or center.
This phase in the process of death is called "the inner radiance of reality during the first intermediate state."  It is the unique and incontrovertible enlightened intention of the Buddha-body of Reality, which arises in the minds of all living beings.
O Child of Buddha Nature, this radiant essence that is now your conscious awareness is a brilliant emptiness.
This intrinsic awareness, manifest in a great mass of light, in which radiance and emptiness are indivisible, is the buddha nature of unchanging light, beyond birth or death.